Discussion Starter
·
#1
·
I'm new to these forums. I figure this may have been reviewed and seen by most everyone. I've learned to try and be fair, unbiased, and open to all ideas and brands. I posted about MTH, Aristo (on a diff site), so I figured I'd pick my favorite from USA Trains.
These hoppers are excellent. The detail draws you in for a closer look. The trucks have metal wheels with spinning brg caps. They are great runners, and track well. They come with USA Metal couplers. I find all of my USA's are mounted lower than most of my other brands of equipment. I body mounted KD #830s and now they like 11.5' curves or better. You could cut the kd mounting boxes for tighter radius as in their instructions. I filed the sides of the kd box a little so they just make 10' curves. These are big and not for the little circles. If I had to pick a flaw, it would be to watch the bottom doors. They really open (neat feature), but if they do they'll hit the aristo frogs (it only happened once now I check to make sure they're closed!).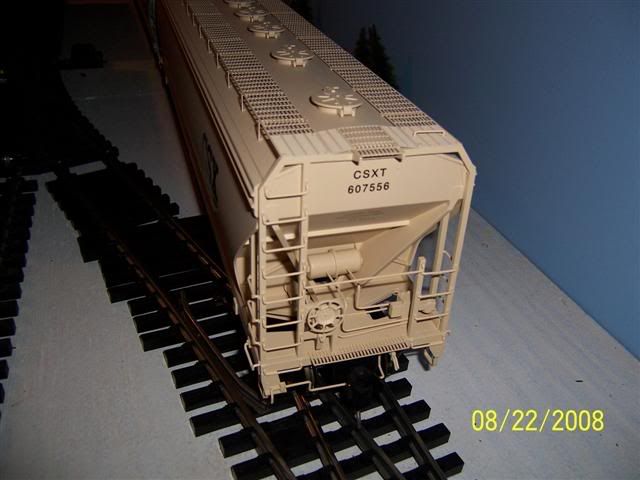 I've also purchased their modern tanker and noticed something today. I see the plastic end platform has broke. It appears to have expanded? It has just been sitting with no temp changes in the basement and nothing striking it?