Discussion Starter
·
#1
·
One evening a few weeks ago, a buddy of mine from Cali was blathering at me about the new Doctor Who series, and grumbled that figures were not available in G..... Later that night, I stumbled on a pattern for a paper Dalek, and thought, hmmmmm.
http://members.tripod.com/~DalekFactory/getpattern.gif
Using stuff I had on hand, this was the result. Not perfect, but a reasonable approximation from a short distance. I'll probably tweak them a bit later.
Next was the Doctor, I settled on Peter Davidson because Tom Bakers scarf sounded like too much trouble, and I had a cheapy figure from Hong Kong to start from. (the one on the left)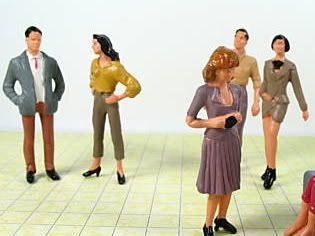 Here was my first effort-
Again, close, but not quite good enough. I used some Bondo spot putty to lengthen his coat, added his trademark bit of celery, and he came out MUCH better. While I was at it I decided he needed a companion, the woman figure on the right in the above pic was beyond hideous as shipped, but with a little putty and paint I think she makes an OK Tegan Jovanka.
Thanks to board member Spule 4 (Garrett) for this pic to work from
Yes, I know, I need to build me a Tardis yet.