Discussion Starter
·
#1
·
My Mallet smashed my styrene drawbar to bits last weekend at Ric's operating session. I replaced the stock one with one that locked into one solid bar to help back up trains. It worked very well until it broke 3 times in one day.
So today, I built one of brass, with some changes to overcome weaknesses of the styrene design.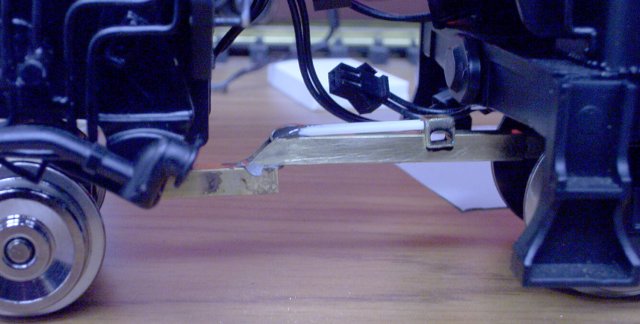 One goal in the new design was to dip under the low-hanging detail at the back of the loco. The plastic one snagged on sharp curves, perhaps leading to its demise. There is also a swivel under the tender that allows the tender to twist behind the loco without bending the drawbar. Again, this might have caused the other to fail.
I retained the spring latch that worked very well.
The only place I worry is where the 2 square pieces are joined in a jog. There's only about a quarter inch square in contact. The lower bar could have been longer. I might drill a hole there and put a screw or add some brass "cheek plates" to reinforce it there.
Somehow, one of my square tubes was completely solder repellant, no matter how much I cleaned and fluxed it. So I used JB Weld to put it together.
I thought I planned it to couple a little closer than that, but I think this is about the distance of the original on the inner hole. I'll likely sand the hole thing and give it a coat of black paint. Maybe I'll rework it to close the gap a bit.
It forms a solid bar going from the peg just behind the rear drivers to the peg were the front truck of the tender mounts.