Many of you have probably seen the attached photo before.
I saw this in a Heisler book and thought it would be a fun project.
Some of the challenging things about it are:
The exhaust stack comes out of the cab rather than out the smoke box
There is a crankshaft between the two axles that appears to drive them.
There are no dimensions for it and we don't even know what gauge track it was built for
Looking at the amount of setback the wheels seem to have from the cab, it looks to me to possibly be standard gauge. Since we don't have any dimensions though, I will just make things in proportion to the drawing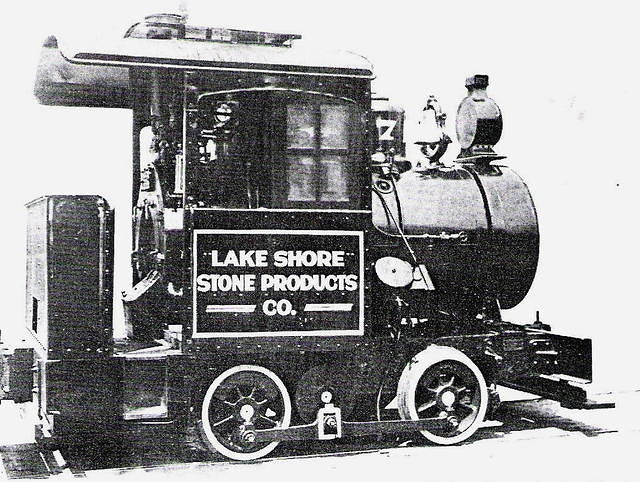 We had a workshop on Saturday and I brought some drawings to have Henner and Dennis look at the boiler design. All three of us had different ideas on how to do it, so I decided that mine would be the first I would try
Here is the sketch I came up with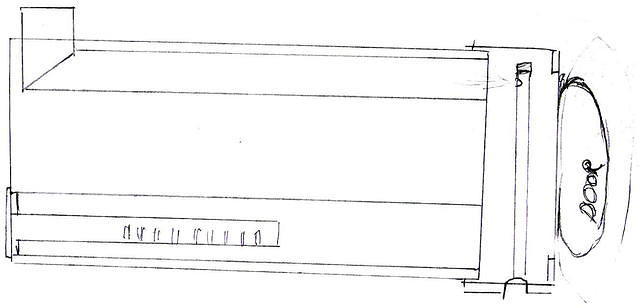 So the idea is to have a conventional design boiler with a smokebox but rather than having the stack at the top of the smokebox, route the exhaust back to the rear of the boiler and have it come out there. The exhaust pipe will have a hole directed at the return stack to aid the draft.
Here is a drawing of the side view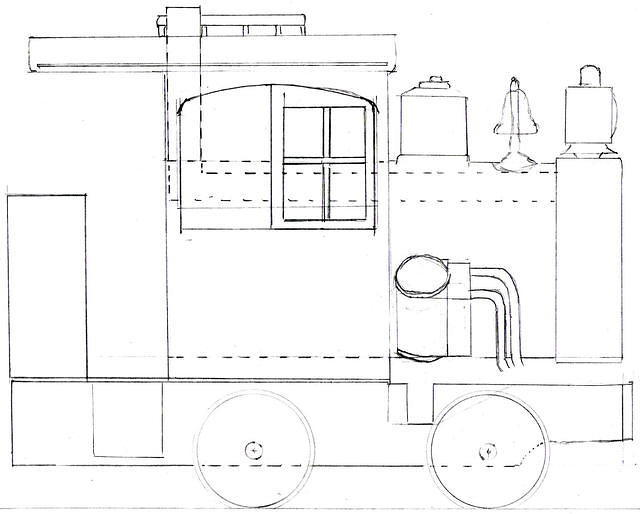 I want to make this a simple project so I will be using Ruby valves and scratch built cylinders. The front drawing is the final one I came up with. Note how short the cylinders are and how long the bottom covers are. This is to make them sort of semi-crossheads. Because of the short connecting (drive) rods, I am afraid I will come up with piston rod bushing wear without some sort of crosshead support.
So Monday morning I started on the boiler
I first squared up a piece of 2-1/2" copper pipe on the disk sander by clamping a 2x4 to the table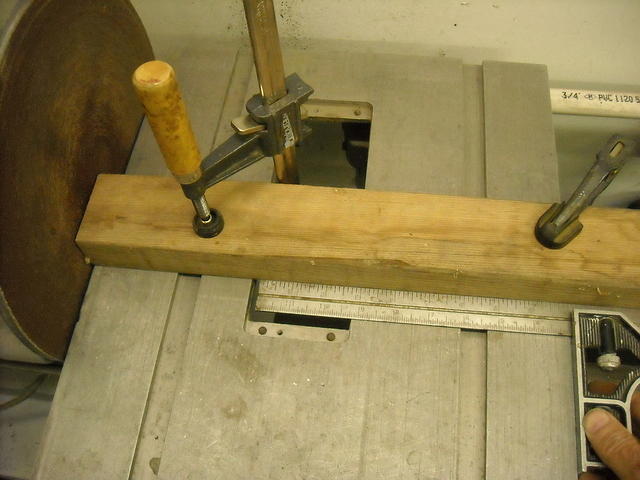 I rotate the pipe while sanding it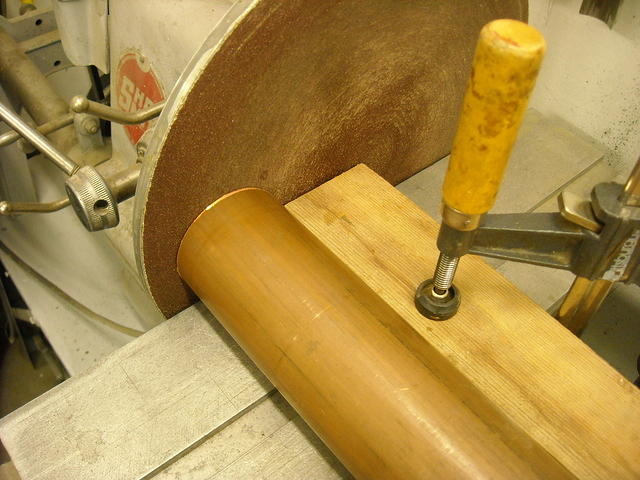 I then cut it on the band saw by rotating it in the reverse direction of the blade travel. It usually takes four or five revolutions to cut through and the cut is perfectly square.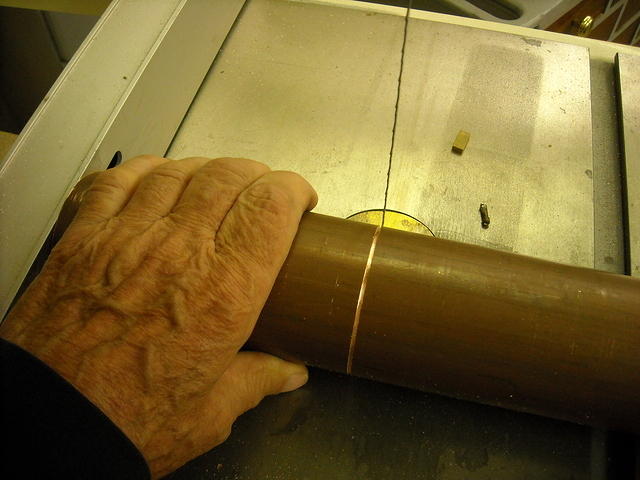 The rest of the boiler making is similar to my prior projects except for the internal exhaust pipe. This fixture is called a picture framing jig. You can see how it is put together. By using the left and right sides for each cut, you always get a 90 degree joint as if one side is 44 degrees, the other will be 46 degrees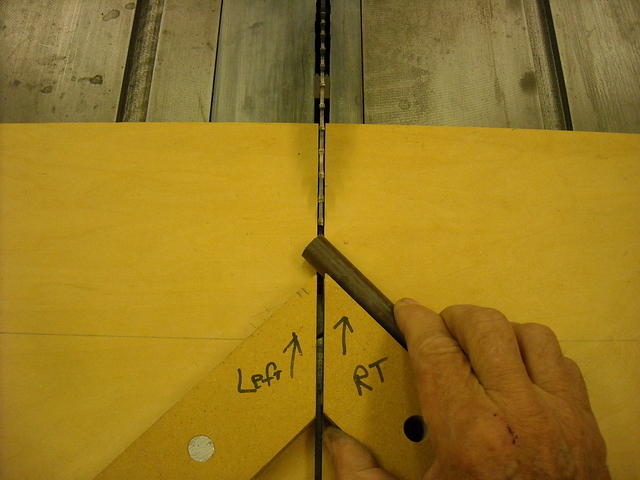 The elbow is now silver soldered together.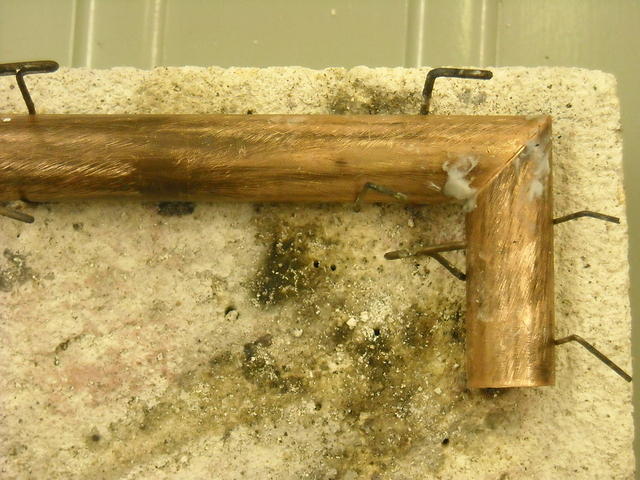 The boiler was soldered together and pickled overnight and I cleaned it up this morning. Here it is with the pieces for the smoke box.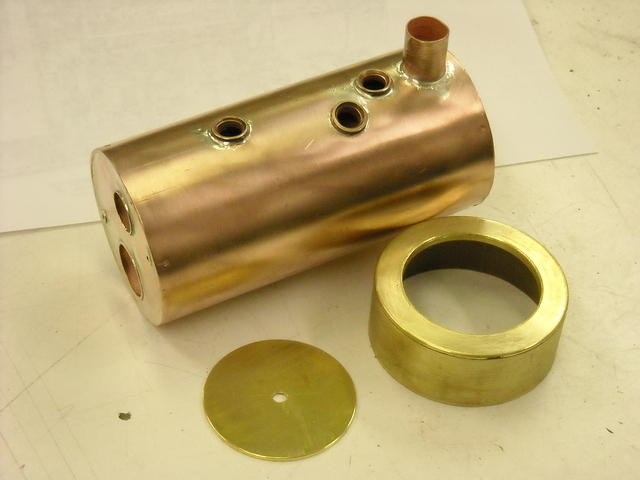 The smokebox hinges and number plate are installed.