Discussion Starter
·
#1
·
Today the final documents and processes were formally completed for the construction of a tramway between the salt harvesting town and railway junction with the Narrow and Broad Gauge South Australian Railways at Bumbunga and the radium/pitchblende mine and radium spa resort at Radium Hill S.A. A 30 inch gauge railway is to be built to S.A.R. standards for the interchange of stock between the two systems (S.A.R. Narrow Gauge is actually 36").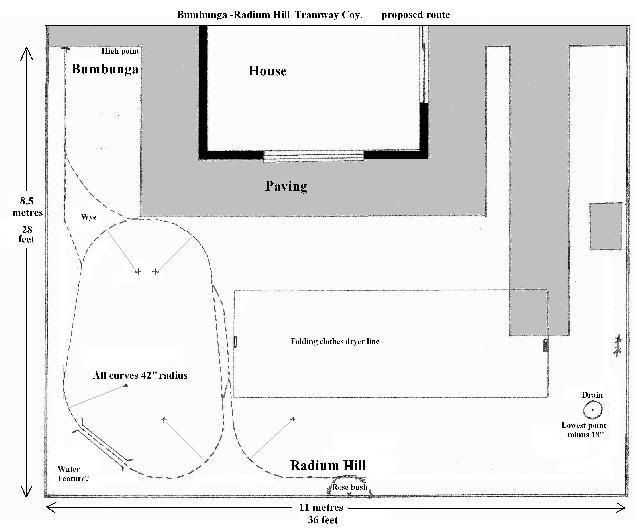 Above is the proposed route.
Point to point with a roundy round in the midle and a reversing wye. About the best that I could do given the constraints of 42 inch curves the absolute max that will complete a circuit that is not a circle, and will allow my carter Bros. coaches and eventually an M.B. to at least make a trip around.
All turnouts are to be Aristo wide radius (10 foot?) 3 left and 3 right, 72 feet of track complete with tie strips. Ladder style roadbed is vinyl cover strips for fibrous cement sheet on treated pine posts and spacers 70mm x 50mm for a little extra width
A construction party will be assembled on a date to be determined and to be concluded by a barbeque and Golden Spike Ceremony culminating in the first run of the celebrated Annie from the Public Forums thread.
I'M SO EXCITED!!!!!!!!!!!
Thanks
Tim