Guys,
I have not posted here for a very long time for different reasons. Currently I am working on a new project, a cog loco in 1:22.5. I chose this scale as I plan to return to Germany in a couple of years. The loco is a model of the first combined rack/adhesion narrow gauge engine built by a Swiss company. It was an industrial switcher and did not have the tilted cab as other rack locos. So I can run it on ordinary track and then branch out to the rack-equipped line. Most of the readers here are not very interested in builds if they are not American prototypes or BIG. So I am reluctant to post it here, though it is technically very challenging. It is small, with an unusual Gooch valve gear (designed using the Dockstader program and Alibre simulation) between the frames and the kinked side rods to get the cog wheel to clear the rails on switches. It was also pretty difficult to design a gear, which meshes with the LGB rack and also a pinion for speed reduction. Another challenge was to match the cog pitch diameter with the diameter of the driving wheels. A complete build thread is here (in German, but with lots of pictures)
http://www.buntbahn.de/modellbau/viewtopic.php?t=13117
A set of drawings was found in an old brochure:
https://books.google.com/books?id=q...v=onepage&q=zahnradlok wasseralfingen&f=false
The drawings are towards the end, so scroll down.
Currently the chassis runs on air, the boiler and burner/gas tank are finished and I am working on the boiler fittings/piping. If you guys are at all interested, I will post some of the progress here. So here is a picture: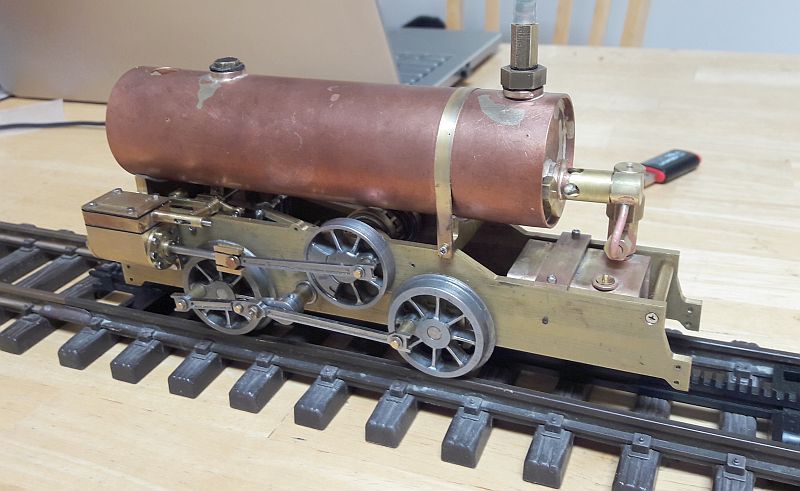 Regards