Discussion Starter
·
#1
·
I've been working on this first scene for almost a whole week, and I'm finally mostly satisfied with it. I wanted something "different" to put on the inside curve of the spur line. It's right at the front edge, so I wanted it to "tell a story"... it also had to be inexpensive. The shed and the saw rig were scratchbuilt by me. The outhouse and some other details are Ozark. The tractor is a cheapy cast iron toy repro and the trailer is Slik-Toy. The figures are a reposed Preiser mailman (the old guy), a couple Fujimi mechanics....and a Lemax wolf turned into a german shepard (which took me nearly 2 hours to get painted right).
The saw rig is based loosely on a Fairbanks-Morse screen cooled unit (yes, the same people who made scales and Trainmaster locos) of about 6 HP. It's mostly wood and cardstock except for the flywheels and the saw blade. I'm not real happy with the wheels, but they will do until I find some others of similar size.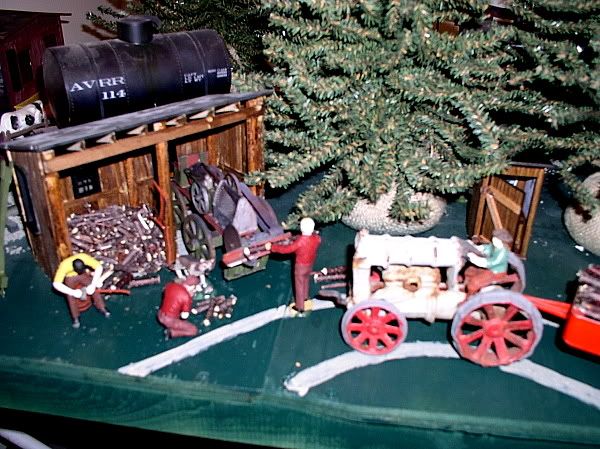 The second mini scene is a Revell '32 Ford plastic kit with a couple Fujimi shadetree mechanics getting greasy. This one was fun and only took an evening to do.