Discussion Starter
·
#1
·
Hi all,
After posting here some months ago , and taking on board some of the comments , I have done a complete re-design of the LBSC's "DOT" that I was building so as to make a proper G1 black five.
After studying Don Young's excellent drawings for his 5" gauge model , looking at hundreds of photographs and spending many hours with the 3D modeling software I think I now have something.
Nothing is left from "DOT" , but a huge amount of experience , and dozens of castings , but hopefully what I have learned will cut the time for the next loco ten-fold.
The only part left for complete design and construction is the boiler , and I decided that I would have a go at a coal-fired version. I must thank Harry Wade for his advice on certain aspects of the design , as I didn't really know how small a furnace would work.
I thought that the process I have used might be interesting for some of you , although the boiler isn't finished yet and proceeds in spurts in between paying jobs.
Actually I am on the third revision now , having had difficulty in producing the thing to accurate dimensions.
The boiler barrel is tapered and I could not get it correct to my satisfaction using a wooden former and I had no suitable material in stock to turn a former from.
Then I looked at an old 3 leg tinsmiths stake that had been lying about for years , one of the arms, or legs, was about the right taper but 1/4" to big on the diameters.
After 10 minutes with the angle grinder and a thin cutting blade I was black from head to toe and had a two leg stake plus a large lump of very nice cast iron.
Do I hear shouts of sacriledge - well needs must etc!
Half an hour later , I have had a good wash and blown the crap out of my nose , now I remember friday nights at my local back in the 60's , most of my mates were apprenticed at Alfred Herberts and after a week of machining cast iron didn't get clean until sunday LOL!
Anyway after some setting up I had the thing between centres in my little Emcomat 7, and with the tailstock set over 3 cuts later I have a perfect tapered boiler former - 1.69°.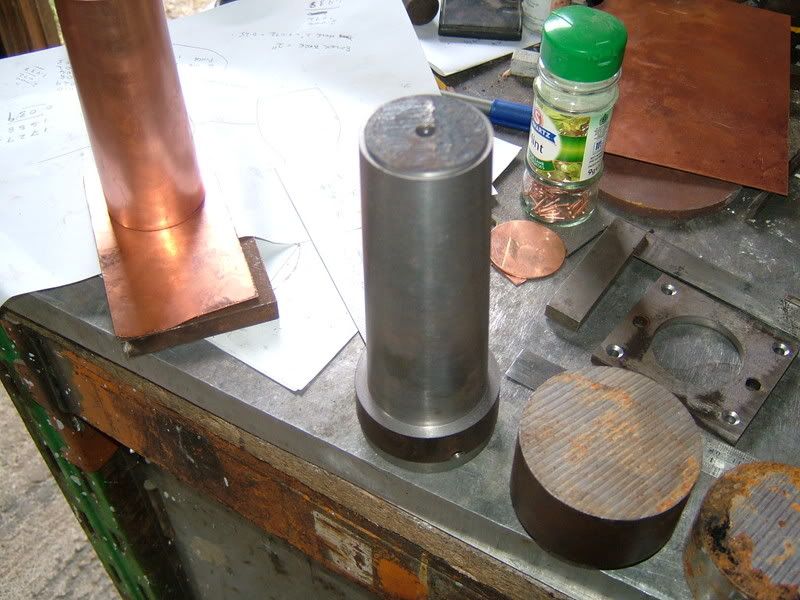 It was then just a few minutes and I had a lovely tapered copper tube ready to rivet and silver solder down the seam.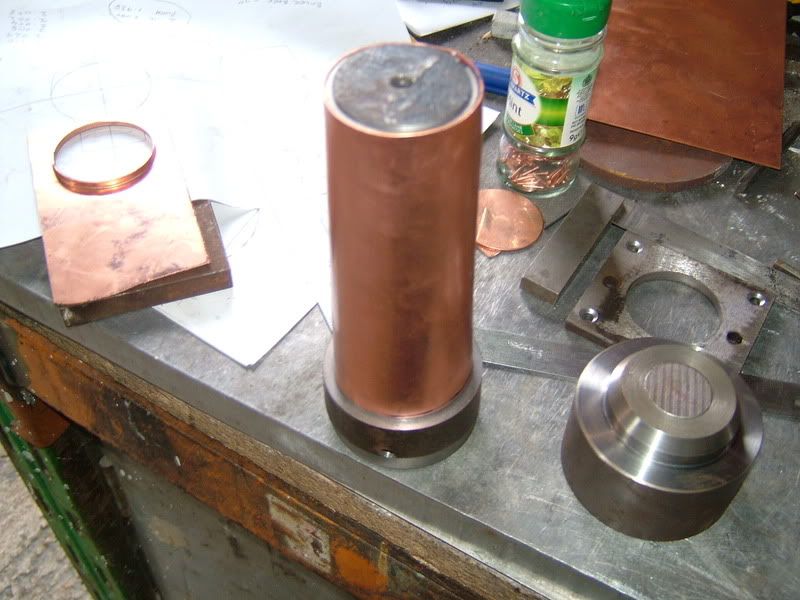 The throat-plate needs to fit snuggly into the tube so I thought I would make a press tool to form the flange !
Today's job is to make a steel former for the throatplate but I am aching a bit so I thought I would write this instead.
During my search for materials I visited a local yard, in a shed I was shown various bar-ends and was quite taken by some 2 3/4" and 2 1/2" bits about 3" long , perfect for punches and dies etc , and the wheel rims for my loco.
As I can't cast iron at present I was planning to make my wheels in brass and fit steel rims.
I got as many as I could carry and gave the guy a fiver.
I set up a piece of the largest diameter and started turning it , boy this is tough stuff.
There was a spec etched on one of the bar ends so I looked it up on the good old net.
Turns out to be M152 - 17% chrome ,nickel moly steel for use in aircraft turbines , now that makes sense as there is a famous turbine factory not 5 miles away.
This is be-eautiful steel ,slow to machine on my small lathe with no coolant and no carbide but the finish is superb , the turning are a pain and with no chip-breaker come of as one mile long piece.
There must be fifty to a hundred pieces or more so if you want some good steel cheap now's your chance.
If you live in the UK of course!