Discussion Starter
·
#1
·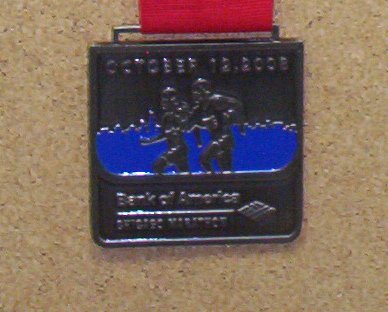 Congratulations from Bank of America for finishing the 2008 Bank of America Chicago Marathon! Your recorded finish time was 7:00:25 and you placed 31083 out of 31,401 finishers.
I have one blister and a chafe mark, but other than a stiff muscle I'm none the worse for the wear. My injured foot was troublesome the whole time, but my IT band and hip flexor that bothered me in training were fine. I wondered at 7 miles if I'd be able to finish, but by 16 was confident. Running on the right side of the road where the slope was in my favor helped, but for several miles that wasn't available. I figured on 6:30, but hoped for closer to 6:00. I kept up my intended pace for 19 miles, but fell 1/2 hour behind in the last 7. I kept my foot mostly working by pausing every couple miles at a lamp post and stretching my calf muscle. A parking meter was no help at all, but Chicago has a style of lamp post that's just right. A few times, I had to sit down, pull off my shoe and fix my foot. No black or missing toenails.
The race officials said the "hazard condition" was moderate most of the time, but boosted it to "extreme" for a while in the afternoon then set it back to moderate. From my point-of-view, it was very nice. One runner said we could probably have made better times had it been cool, but it was a nice day to be out. There was a bank thermometer that said 91 (33C), but I didn't believe it. People with water hoses and sprinklers were a welcome sight.
About mile 17, I met a lady having a little trouble. She said she had gotten hungry. I counted my stores, and decided I could spare a 100 calorie pack of "runner's goo," so I gave her one. A little later, the extra calories cut in and she pulled ahead. I finished with 1 to spare.
Later, I caught up with and passed two pace leaders from a faster pace. I felt sorry for them, but quietly celebrated a small victory as I went by.
Annoyingly, they started taking the course down while I was in the 20th mile. I was with a small group and one said, "There's 25 miles! Just 1 to go!" But by the time we reached the sign, they'd taken it down. When you pass 26th marker, you turn up a hill. I powered up the hill and pulled ahead of a couple girls I'd been running with. At the top of the hill, you turn left, but a stupid truck loaded with race equipment pulled up between me and the path, so I had to go around it. I had enough energy to finish on a run. They handed me a water bottle, but right then, that was the last thing I wanted. I was ready for a porta potty!
It was more fun and less misery than I expected. You meet the most interesting people and the city throws quite a party. At the north turn around, the millitary school met us with a band. Later there was another marching band and 2 groups of cheerleaders. You pass the Moody Bible College twice and the Moody Church once, and they make quite a noise. Three neighborhoods stand out in my memory, Greek Island, Little Village (Mexican) and Chinatown.